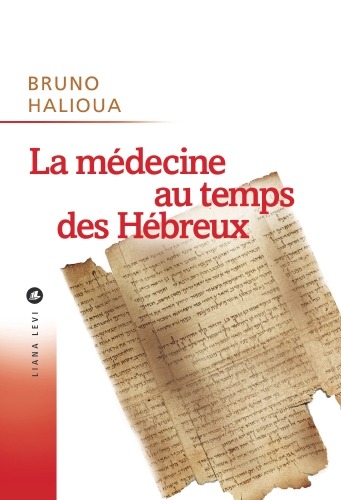 Medicine in the Time of the Hebrews
La Médecine aux temps des Hébreux
Following Medicine in the Time of the Pharaohs, Bruno Halioua here explores another chapter in the medical practice of Antiquity – medicine in the time of the Hebrews.
At the crossroads of the main routes of communication of Antiquity, linking Africa to Asia, and Asia to Greece, the Hebrews gathered and put into practice a whole series of medical knowledge.  But between the magi of Babylon and the sounou of Thebes, what role did the Hebrew doctor play?  From rules of hygiene to surgical interventions such as trepanation, as well as forensic expertise before the courts, the art of the doctor was at the heart of daily life and enjoyed considerable prestige.
What was his training?  With what types of health problems was he confronted, particularly as regards pathologies linked to the various professions of the time?  What did he know about anatomy?  It's thanks to a very precise study of the Bible and the Talmud, abundantly cited, as well as the rare texts which have touched upon the subject, that Bruno Halioua answers all of these questions in a work that will fascinate readers well beyond the medical fraternity.
Bruno Halioua is a dermatologist and lecturer in the history of medicine at the University of Paris IV.  A former head of clinic at the Paris school of medicine, a post-graduate in contemporary history, and a member of the French society of the history of medicine, he is the author of Science et conscience, of Blouses blanches, étoiles jaunes, and of La Médecine au temps des Pharaons (10,000 copies sold), and has been translated in the United States (Harvard UP), Egypt (Supreme Council of Culture), Italy (Dedalo), and the Czech Republic (Vysehrad).
About
"Well documented, instructive and playful." Tribune juive
"Edifying and fascinating." Actualité juive