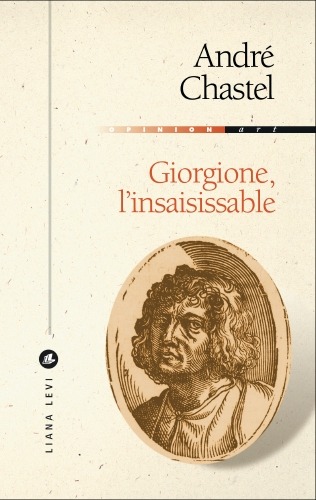 Giorgione the Elusive
Giorgione, l'insaisissable
Foreign Sales: Italy (Abscondita)
According to Chastel, Giorgione is one of the most curious and most fascinating enigmas in the history of painting. Why? Because despite an artistic career and a body of work almost impossible to reconstruct, Giorgione remains a mythic figure in the art history of Venice. A major influence, though his period of activity was astonishingly brief (only ten years or so) nothing in the world of painting was ever to be the same again after him.
In order to approach the art of Giorgione, Chastel invites us to enter into the Venetian dolce vita around the year 1500. Was Giorgione the preferred painter and moving spirit behind its gilded and somewhat wild youth? Whatever the case, the new phenomenon directly linked to him seems to have been the sudden proliferation of privately commissioned paintings. Giorgione worked for a very specific clientele, determined to give a poetic dimension and a totally original look to his works. He was unpredictable, and his career is a reflection of the climate of uncertainty, of the need for new horizons, and of the anti-establishment waves of rebellion which characterized the crisis which Venice was to undergo at the dawn of the sixteenth century.
The celebrated art historian André Chastel (1912-1990) was a professor at the Sorbonne and the Collège de France, a member of the French "Institut," and the author of numerous works, particularly on the art of the Italian Renaissance.
About
"Three articles to learn how to get to know this elusive artist, but also to enter the Serenissima as though through a hidden passage. A great little essay."  Laurent Lemire, L'Amateur d'idées
"To read André Chastel is a delight: in his role as an art critic, which is nothing less than to teach how to see, to educate the eye, he offers in clear, simple language the key to unlocking the work of Giorgione.  This little book is highly recommended for all art lovers – including novices already enchanted by Giorgione." Mikaël Faujour/En3mots.com