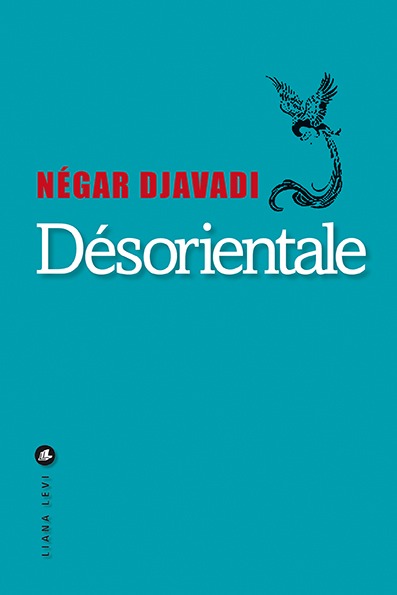 Disoriental
Désorientale
154,000 copies sold
Dublin Literary Award's shortlist 2020
Albertine Prize 2019
Lambda Literary Award 2019
National Book Award for Translated literature's shortlist 2018
Prix PremIère (RTBF) 2017 - Prix de la Porte Dorée 2017 - Prix du Style 2016 - Meilleur premier roman LIRE 2016
Foreign sales: Italy (E/O) / USA (Europa) / Spain (Malpaso) / Germany (C.H. Beck) / Romania (Polirom) / Slovenia (Zalozba cf.) / Croatia (Meandar Media) / Latvia (Janis Roze) / Israel (Hargol)/ Serbia (JP Službeni)/Slovakia (Inaque)/ Lithuania (Balto)/Turkey (New Human Publisher)
English and German translations available
An enthralling panorama of Iran, exile, homosexuality, identity, and transmission.  A novel bursting with life and impetuosity!
By night, Kimiâ mixes alternative rock at concerts. By day, she follows a treatment of artificial insemination to have a child with her girlfriend Anna. Born in Tehran in 1971, exiled in France ten years later, to live free, she's always kept her distance from her native culture. But in the waiting room of the MAP unit at the hospital, from one medical appointment to another, the genies escaped from the past catch up with her. Over the course of intertwined memories, in a long aside to the reader, she unfolds the whole story of the Sadr family. From her petulant ancestors from nothern Persia down to her own parents, Darius and Sara, eternal opponents of the regime of the day: that of the Shah, until 1979, then that of Khomeiny. This last episode was to force their definitive flight from Iran. Unfortunately, the France lived in exile is nothing like the land mythologised by the Iranian bourgeoisie… Then, playing on flashbacks and fast-forwards, Kimiâ convokes three generations and a goddess of rock and roll to the bedside of her «disorientalisation.»
Négar Djavadi was born in Iran in 1969 to a family of intellectuals opposed to the regimes both of the Shah, then of Khomeiny. She arrived in France at the age of eleven, having crossed the mountains of Kurdistan on horseback with her mother and sister. A graduate of a cinema school in Brussels, she worked some years behind the camera. Today she is a script-writer (documentaries, short films, series) and lives in Paris. Disoriental is her first novel.
"Tremendous! Remarkable!" La Grande Librairie (France 5)
"The revelation of the new season." Elle
"A voice that enchants us as much as it grips us." Le Monde des livres
"A master stroke." Psychologies Magazine
"One rarely reads such a strong first novel." Grazia
"An odyssey." L'Humanité
"Between social satire and Persian tales, this novel plunges us into the history of Iran and that of a woman in search of her self." Biba
"A fast-paced first novel full of humor." Ouest-France
"A romanesque saga." Le Figaro littéraire
"An autobiography full of liberating fiction." Lire
"Imbued with a vein of political-incorrectness, resolutely spontaneous, this novel is a celebration of life and music." Le matricule des anges
"A tangled monologue that crosses family saga with intimate narrative." Livres Hebdo
"A devilishly romanesque story, full of deliciously oriental digressions." Télérama
"A paradoxical, damn cheeky saga: one of the loveliest surprises of this summer's end." Diacritik
"A wicked modern story." Onlalu
"An inexhaustible novel to read over and over again." Le 1