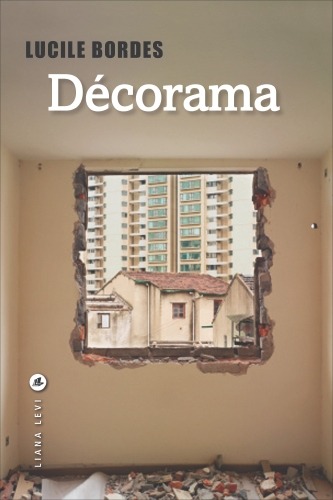 A seaside town with its encroaching concrete slab towers¾what could be more ordinary? But George, fortyish and slightly obsessive, just can't get used to the idea: he dreams of quitting his job in real estate, of defying the general trend headed by the town council which, since the closure of the shipyards, is placing all its hopes in these modern constructions. As luck would have it, the post of cemetery caretaker becomes available—the perfect little job to escape the stress of modern life and calm his neuroses. But on the day scheduled by the developers for the demolition of his grandparents' building to make way for a luxury residence , »Blue Horizons », George is sucked back in again—especially since it was he who'd found an apartment in just that building for Penelope, a former high-school girlfriend, now a very resourceful widow¼
In the full-blown designer showroom his town has now become, George superimposes the old on the new, in his mind's eye recovering the walls with the posters of his past and of his pipe dreams.
Once again we find all the originality and subtlety of Lucile Bordes' style in a perfectly quirky novel. A ferociously burlesque tale about our memories of place and how they can entrap us.
Lucile Bordes, born in 1971 in the Var region of France, now lives in La Seyne-sur-Mer. A lecturer at the University of Toulon, she also runs writing workshops. Her first novel, I Am the Marquise of Carabas, was published by Editions Liana Levi in September 2012 (Piccolo, February 2014).
« In a minimalist fictional space, she succeeds in stirring up the murky waters of a burdened past that's just been waiting to explode. » Le Monde
 « Her style, her tone, the originality of her remarks are irresistible. » Version Femina
« Lucile Bordes writes with effortless grace, attentive to so many fine details, veiling in the guise of a story a distressing realization of fact and a sensitive reflection on the spirit of lost places of the past. » Livres-Hebdo
« Like a Don Quixote of faded glory, the melancholy protagonist Georges is an unforgettable anti-hero. Dazzling. » Le Parisien
« Nothing could be lighter, more delicate, finer than this story of a cemetery. That's the sign of a true writer, the ability to inject life right into death itself. » France Inter
About