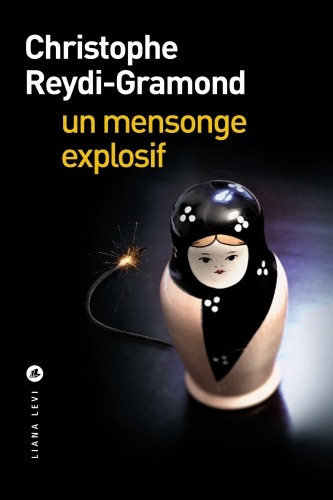 An Explosive Lie
Un mensonge explosif
Industrial espionage and state lies in an awsome international thriller
On September 21, 2001, ten days after the attacks on the World Trade Center, an explosion at a chemical plant south of Toulouse, France, left 31 dead and 2,500 injured. The authorities immediately pronounced it "99% an industrial accident." And yet, so many gaps, contradictory witness reports, and unlikelihoods prevent some observers from totally accepting the official version. But alternative hypotheses—sabotage, an attack—aren't enough to explain the events that took place that day. The apparent suicide of a journalist who knew too much leads anti-terrorism commissioner Clovis  Lenoir into an investigation within an investigation where economic, political, and ideological stakes are all entwined.
A physicist who had defected to the East in the 70s, a secret agent in search of vengeance, an arrogant chief of staff, a predatory ex-trader, and an old lady who still believes in the Revolution are just some of the characters Clovis Lenoir will come across in this case whose roots lie deep in the past. In this ingenious thriller, Christophe Reydi-Gramond freely adds layers of deceptions on top of truths, leaving the reader delighted to have been so brilliantly manipulated.

Christophe Reydi-Gramond was born in Bordeaux in 1964. He has traveled the whole world, spending a year in Senegal and ten in the Caribbean. After a period in journalism and advertising, today he manages corporate communications for a large French enterprise and lives in the country in central France. Before undertaking the writing of An Explosive Lie, he published two novels for young people edited by Coop Breizh under the pseudonym Raymond Grady.
« A page-turner from start to finish, a thriller that rings strangely true. » Figaro Magazine
« More twists and turns than in reality, all the better to rope us in. » Le Canard enchaîné
« When it comes to lies, it's this novel that's explosive, so masterfully does the author mix fact and fiction. » Télérama
« The novelist develops a remarkably constructed story in which each piece fits perfectly together, from one end of the world to the other. » Lire
« This Explosive Lie sets out to explore the real world in all its complexity and to revisit the necessity of the State lie. » La Montagne
« Displaying real talent for construction in this well-documented book, the author, not content with handling facts and plot, creates a varied cast of characters without ever losing the reader. » Le Matricule des anges
« A great success. » Mediapart
« Beyond the pure pleasure of the fiction, in which he energetically mingles invention and conspiracy theories, one senses a novelist outraged by a series of shameful leads… This surprising novel will not fail to stun you. » Paris Match
« A caustic pen, much wit, and a hint of cynicism. An author to watch. » Marie-Claire
« The author clearly knows what he's talking about when it comes to politico-industrial chicanery and high level espionage… He has a real way with the subject. » L'Express
« Imbued with such energy and suspense, this is a landmark thriller. » Page des libraires, Librairie Doucet Le Mans
About